An Eternal Commitment to Each Other and the Community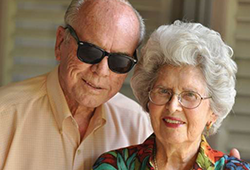 As Marvin and Nadene Steinert prepare to celebrate their 70th wedding anniversary, it seems only fitting that they renew their commitment to giving back to the Kern County community as well. This couple has demonstrated commitment to each other, their family, church and those community organizations most important to them. And they have chosen to use Kern Community Foundation as a tool for much of their giving.

"I've taught my sons and colleagues through example," Marvin explains. "I watched my father give in church every week; I saw him and learned. My sons have done the same." Nadine also grew up in a home where benevolence was common, and she believes their commitment to philanthropy is innate. "The Lord has blessed us; he has given Marvin the knowledge to be successful, Nadene adds. "The Lord knew who He could trust His money with because Marvin would in turn give back to the Lord."

After serving in the military as a young man, Marvin became an accountant by trade, worked in the cattle industry for more than 20 years, then built a successful career in commercial real estate. He worked hard, leaving the house every morning for breakfast meetings and long days in the office while Nadene cared for their three sons. All three boys attended Fresno Pacific University, with two returning home to join their father in the family business. Today, Marvin participates in the family business, with weekly trips to the office.

He is confident that Kern Community Foundation is a good, safe way to ensure his legacy will live on. "Your money is working while it's invested; it's growing while you decide where you want to designate your giving to go," he added.

Marvin is a past Director of Kern Community Foundation, serving several years on the Foundation's Board. Five years ago, the Steinerts established the Marvin Steinert Family Charitable Fund. Marvin and Nadene are also members of the Foundation's Legacy Society, for having made a planned gift to the Foundation. Most recently, the Steinerts made a gift of commercial real estate. Once the donated property is sold, proceeds from the real estate will be placed into the Steinert fund and used to support their grantmaking for the causes they care about.